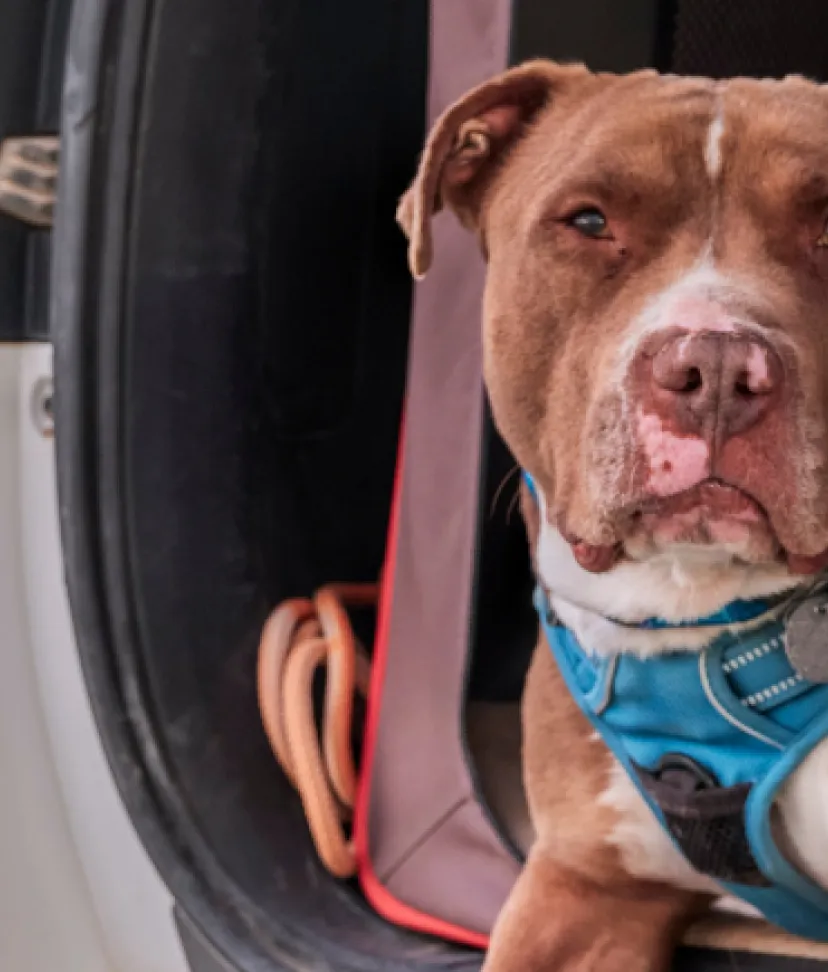 HOT WEATHER PET SAFETY
As temperatures heat up in the Southland, LA Animal Services reminds pet owners to keep their furry family members safe and cool with the following hot weather pet safety tips. 
The best way to handle any emergency or disaster is by being prepared. An unpredictable emergency situation can happen at any time. Making a plan to be as ready as possible will help all of your family members, two-legged and four-legged alike, be safe for any emergency.
Plan ahead to be ready for any natural disaster or emergency situation with these tips, and by using this Emergency Plan Checklist.
Horse And Large Animal Emergency Preparedness
Make sure your horse is identifiable with a bracelet and microchip. Despite your best efforts, your horse may run off or be separated from you. An ID bracelet can be purchased online or you can make your own with your contact information. Place the bracelet round the horse's back foot. A microchip can be scanned and easily locate you through a database. The odds will be much better for reuniting you and your horse! 
Plan for an evacuation. Train your horse to load into a trailer.
Identify alternate ways that you can trailer and/or walk your horse(s) to nearby stables or other designated safety zones.
Pre-arrange for boarding at stables outside the City of Los Angeles, if possible. LA Animal Services can only provide evacuation sheltering for equines at Los Angeles Fire Department identified mandatory evacuation areas. You, as the animal owner, are responsible to plan ahead and find alternative stables that can accept your animal in case of evacuation orders.
Have a surplus of feed available. Don't let yourself get down to the last bale when disaster strikes.
Have an emergency three day supply of water available (use drums or barrels).
Keep a leather halter near the corral that's easy to find for emergency responders in case you are not able to evacuate your horses yourself.  A nylon halter is not recommended because it can cause serious burns.
Never turn your horse or livestock loose during a wildfire. You do not know how they will react and they could be dangerous to you or others. If you have to evacuate without your animals, keep them in a safe fenced paddock until the threat passes or emergency help arrives.
During An Emergency, TAKE YOUR ANIMALS WITH YOU!
It is simply too dangerous to leave companion animals unattended during natural disasters. The best way to ensure the safety of your pets is to evacuate with them.
What To Bring
Keep a back-up a supply of pet food, prescription medications, kitty litter, and essentials. Also, assemble an animal evacuation kit with the following materials:
One durable animal carrier displaying your name, address, and phone number for each animal in your household
Pet food (make sure that all canned meals have peel tops and use by date should be checked)
Blankets
Bottled water (5 gallons per animal is ideal)
Leash, harness and collar
Photocopies of medical and immunization records
Recent photos of your pet (in case you need to create "lost" flyers or provide proof of ownership)
Wet wipes
Litter pan and cat litter
Plastic bags
Where To Go
Locate pet-friendly lodgings. Contact establishments prior to an emergency to obtain their pet policy. The following hotel chains accept pets at some or all of their locations (please note that restrictions and additional fees may apply):
America's Best Value Inn
Best Western
Econo Lodge
Kimpton Group Hotels
La Quinta Inn & Suites
Marriott
Motel 6
Radisson
Red Roof Inn
This is the single most important step you can take to ensure that you and your companion animals will be reunited if you are separated.
Your pet should have a current LA City license. Your pet's licenses and microchip should both be registered with your correct contact information. Don't forget to include alternate contacts with the microchip registration, such as your cell phone number and phone numbers for an out-of-area relative so that you can still be contacted in the case of an evacuation. If you and your animal are separated proper identification will help reunite you both.
Visit our Microchipping page and our Licenses page for more information.
Have a rescue alert sticker (available at your local pet supply store) visible in one of your home's windows that lists the number and species of animals residing in your home. If you evacuate with your pets during an emergency, and time allows, write "Evacuated" across the alert sticker.
 
Put together a backpack of emergency supplies for your pet such as food and water for several days, treats, medications, toys and blankets. Make sure that perishable items are replaced every few months. Keep a back-up a supply of pet food, prescription medications, kitty litter, and essentials.
Create copies of important documents for your animal including
vaccination records
microchip information
photos of your pet
your contact information
friends/relatives contact information
any notes on feeding, medication, and behavior.
Keep a copy off-site with a friend or family member, in Cloud storage and tape a copy to a portable kennel.
 
If an emergency happens or you have to evacuate, this will help your pet feel safe and make it easier to transport them.
 
If you are not home when an emergency happens, your neighbor can check on your animal and help evacuate your pet if necessary.
Identify hotels inside and outside your area that accept pets during emergency situations. If you cannot take your furry family member with you, identify boarding facilities nearby and outside of your area where you can take your pet.
More Emergency Preparedness Resources
Evacuations and disasters can happen at any time. Being prepared and ready to go will help you, your family and your pets stay safe in an emergency. Below are resources to help you protect your pets and livestock.
How To Prepare For An Emergency PSA
In emergencies, don't forget about your furry friends. Be prepared with these tips.
Getty Fire Horse Evacuations
During the Getty Fire, LA Animal Services team members worked tirelessly to provide care for over 150 horses that took up refuge at Hansen Dam Equestrian Center during the mandatory evacuations.
Preparing Makes Sense for Pet Owners
A unique instructional video containing information for pet owners and suggestions for proactive pet emergency preparedness.